Ad blocker interference detected!
Wikia is a free-to-use site that makes money from advertising. We have a modified experience for viewers using ad blockers

Wikia is not accessible if you've made further modifications. Remove the custom ad blocker rule(s) and the page will load as expected.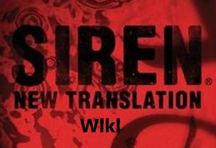 Welcome to New Wiki Name
Hey everyone, I made this wikia to finally get a decent wikia site for the Amazing game series: Siren(not just blood curse. I will be collaborationg on creating mainly Blood Curse pages as i unfortunatly do not own the previous games. I'm hoping there are other people who want to help create an amazing in-depth site. Love you Loads, Will. xoxo :)
Replace this with the name of your topic
Edit
Write an introduction to your topic here, to explain to your readers what your topic is all about!
Latest activity
Edit